Skin cancer diagnosis made easy
Fully accredited, highly practical skin cancer teaching by leading skin cancer experts - made simple.
4.8
Highly rated (Out of 5)
Are you worried about missing a Melanoma?
One of every clinician's biggest fear is a missed diagnosis, and as doctors and nurses, we are often the first and sometimes the only ones to see our patient's skin. We recognise the difficulty in assessing skin lesions and the fear most have in missing a potentially life-threatening melanoma. Skin Cancer Symposiums has developed courses that are easy to understand and immediately applicable, allowing you to confidently assess whether a skin lesion is benign or malignant.
Dermatoscopy - the easy way
Dermatoscopy is an invaluable tool when paired with the right training. However, training is often hard to access, expensive or needlessly complex. We have leveraged decades of experience from world-class experts to create courses that are accessible, affordable and easy to understand!
Skin Cancer Symposiums delivers world-class teaching from Professor Amanda Oakley, the founder of Dermnet and Professor Cliff Rosendahl, the co-author of 'Chaos and Clues' and 'Pigment without Prediction'. Cliff and Amanda break down dermatoscopy teaching into simple easy to follow algorithms.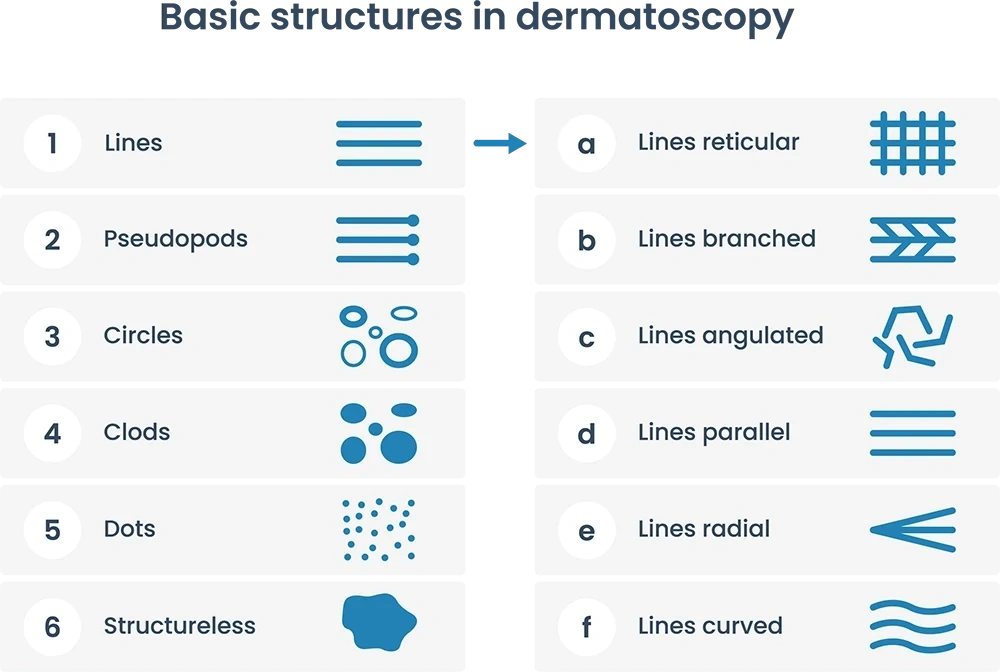 What our students say about us
We are proud to achieve 4.8/5 overall in all of our courses. Read our reviews.
"Of the many courses I have been, this is the best. Immensely experienced faculty. I am finding it very easy as the algorithms are simplified. All the previous metaphoric language has been replaced by easy terminology. I recommend this to everyone. I think this system is going to change dermatoscopy tremendously for a good reason."
Dr Achuth Hosur - Dermatologist, Medical Director SK:N
"Often in medicine, we learn from the giants who come before us. Cliff Rosendhal is such a man. Listening to him speak with passion and teach with enthusiasm is both a pleasure and a practice-changing experience. His algorithms for diagnosing skin cancers are easy to learn and unequivocal in practice. I diagnosed my first melanoma after his first course and now I'm back for more. Every GP should attend this course as it will make you unafraid to ask the question 'do you have a lesion of concern you want me to look at?' Come join the league of simple GP's who are changing lives!"
Dr Frederick Goh - Principle, Royal Heights Doctors
"An excellent and extremely well run and useful symposium. Superb lectures delivered with clarity and made easy for the participants to assimilate and remember. I attended the meeting last year at Oxford, and I think that was a better venue, at least for me. Thank you to all who organised this meeting - Australia + New Zealand = unbeatable."
Mr Harvey Minasian - Consultant General Surgeon
"Chaos and Clues is an easy to remember and very practical algorithm to use. It seems that it's about recognising that something needs excision and is therefore treated correctly rather than getting the exact diagnosis 100% every time. The method gives confidence that it's easier not to miss these significant lesions."
Dr Mary-Anne Bellamy - GP, Hoon Hay Medical Centre
"Amazing symposium today. Gave me the skills needed to operate my dermascope and the knowledge, tools and practice needed to differentiate between benign and malignant lesions. I absolutley enjoyed everything from the organisation, food, quality of presenters and location. A friendly reception on arrival by the ladies made The experience even more wonderful. Many thanks to you all."
Dhyanne Hohepa - Nurse Practitioner
"I should have done this years ago. Excellent teaching - understandable, engaging and memorable. Using a dermatoscope is paradigm shifting for me. Dr Rosendahl is one of the best teachers I have ever heard. Worth every cent."
Dr Joanna Lapish - GP, Royal Heights Medical Centre
"Great series of lectures from enthusiastic tutors. Provided lessons to take forward and gain confidence in with further experience. Would definitely recommend to colleagues!"
Ms Pennylouise Hever - Plastic Surgeon
"An excellent symposium. Came away with a lot of new knowledge that I was immediately able to put into practice. Lots of very practical tips. A simplified yet concrete approach to dermatoscopy for the newbie. A very dynamic team with infectious enthusiasm."
Dr Alka Patel - Lifestyle Medicine Physician, GP
"A fantastically delivered training programme which covered most aspects in a 2-day course. Time management was excellent and the presented were experts in this field of dermatoscopy and skin cancers. A special thanks to Professors Cliff Rosendahl and Amanda Oakley for the high-quality presentation which I have not come across in years."
Dr Mohamed Amin - GP, Medical Adviser NHS England (Midlands and East of England)
Complimentary Molescope II*
Our primary focus is to reduce global morbidity and mortality from skin cancer. We have partnered with MetaOptima so we can offer students of select dermatoscopy courses a free Molescope II Digital Dermatoscope from MetaOptima (worth $449 NZD / £227 / $449 AUD / $325 USD). This will allow every clinician to make use of the teaching immediately without cost of equipment as a barrier.
*Note due to regional restrictions, we are unfortunately unable to offer this to attendees of our Stockholm course!
Online course
World-class Dermatoscopy Training made simple. 
Advanced Certificate of Dermatoscopy (Online)
$995 
(NZD - Excludes GST)
Immediate start


Learn at your own pace with immediate access to materials
Free MoleScope II Dermatoscope ($449 NZD RRP)
A comprehensive online course with access to helpful and knowledgeable tutors
1-year access to course content
Gain immediate confidence in the diagnosis of common skin cancers - pigmented and non pigmented
Interactive video technology mimics the experience of our live events - when our professors ask the audience a question, you can answer the question on screen - just like in the lecture!
Fully accredited - by the RNZCGP (NZ), RACGP, (Australia) RCGP (UK)
RN/NP/Registrar pricing: $895
Fully online - work at your own pace
Engage with our teachers throughout the course
Learn more
Any questions?
Send us an email and we will get back to you as soon as possible!